About us:
Iron Trust Corporation, founded in September  1976 by President Director Mr. Cheng Chin Yuan.
Specialised in manufacturing and design all kinds of casting molds.
Starting year 1988, we spread our business customer to Indonesia, Vietnam, Japan, Malaysia, America and mainland China.
PT. TESHIN INDONESIA
, founded in 1997, is specialized in Gravity die casting and Low pressure die casting production line.
PT. MOTO MANUFACTURING INDUSTRY
, founded in 2012 for mass production in High pressure die casting production line.
To expand our business, Iron Trust Corporation has complete a second factory in 2014.
Company History:
Iron Trust Corp. was established in September 1976 with an initial capital of NTD 500,000. The company catered for the customers in Taiwan with its strong knowledge and skills in the Japanese methodology for aluminium casting.

Between years 1983 to 1988, the increase in demand in the local market led to a capital injection of NTD30,000,000 to facilitate the expansion of the company to diversity its production capability. The scope of the expansion enabled the production capacity of namely High Pressure Die Casting (HPDC), Low Pressure Die Casting (LPDC), Gravity Die Casting (GDC) and Sand casting mold. This subsequently opened up opportunities to supply to international markets, predominately South East Asia.

By June 1997, PT. TESHIN INDONESIA was established specializing in the production of Gravity Die Casting and Low Pressure Die Casting products.

In 2012, further investment was made to expand presence in the Indonesian market and PT. MOTO MANUFACTURING INDUSTRY was established to produce High Pressure Die Casting products.

In 2014, a strategic priority for the Iron Trust Corp. was to maintain quality control over service and production. Initiations begun for additional investment into state-of-the-art plant and equipment along with establishing Daimoto Precision Co. Ltd to handle the machining part of the process in-house. This means we can assist customers from concept development, design, mold manufacturing, trial runs, part machining, through to complete part delivery. Our service proposition post implementation gave us the capability to meet the demands of customers from all industries in the Taiwanese market and deliver an experience that is exceptional, efficient and seamless.


Business Items:
(1) Design and manufacture various special casting machines and jigs
(2) Aluminum High pressure die casting molds and parts
(3) Low-pressure and gravity casting molds and parts.
(4) Sand casting molds
(5) Including selling relevant products, programming the procedure of production and integration
(6) Aluminum parts for automobiles, motorcycles, hard-ware, household appliarces, computer and machinery.
Our valuable customer: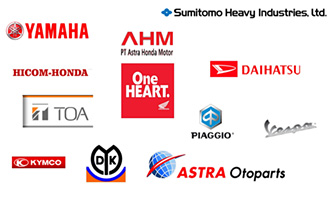 Company Policy:
Through expertise and trust, we are devoted to deliver solutions to meet the quality needs and satisfaction of our customers. Our ongoing commitment to the business adds value to our customers, staffs, and suppliers.
Quality Policy:
Full Participation
Continuously Improvement
Keep Growing Skills
Minimize Waste
Customer Trust